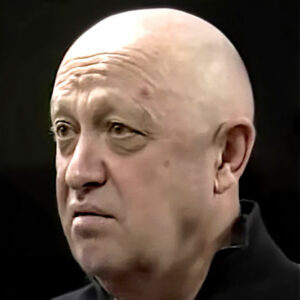 MOSCOW — Russia's most powerful mercenary Yevgeny Prigozhin was on board a plane which crashed on Wednesday evening north of Moscow with no survivors, the Russian authorities said, two months to the day after he led an abortive mutiny against the army top brass.
There was no official comment from the Kremlin or the Defense Ministry on the fate of Mr. Prigozhin, head of the Wagner mercenary group and a self-declared enemy of the army's leadership over what he argued was its incompetent prosecution of Russia's war in Ukraine.
A Telegram channel linked to Wagner, Grey Zone, pronounced him dead, however, and hailed him as a hero and a patriot who it said had died at the hands of unidentified people it called "traitors to Russia."
A Reuters reporter at the crash site at first light on Thursday morning saw men stretchering black body bags. Part of the plane's tail and other fragments lay on the ground near a wooded area where forensic investigators had erected a tent. Mourners left flowers and lit candles near Wagner's offices in St Petersburg early on Thursday.
Amid fevered speculation and an absence of verifiable facts, some of his supporters have pointed the finger of blame at the Russian state, others at Ukraine which was due to mark its Independence Day on Thursday.
Whoever or whatever was behind the crash, his death would rid Mr. Putin of someone who had mounted the most serious challenge to the Russian leader's authority since he came to power in 1999.
Others who have opposed President Vladimir Putin or his interests have also died under unclear circumstances or come close to death, including outspoken political leaders and journalists. The Kremlin has always denied any state involvement in such incidents.
Mr. Prigozhin's death would also leave the Wagner Group, which incurred Mr. Putin's wrath in June by staging an abortive armed mutiny against the army's top brass, leaderless and raise questions about its future operations in Africa and elsewhere.
The Brazilian Embraer Legacy 600 model of executive jet that crashed has only recorded one accident in over 20 years of service, according to website International Aviation HQ, and it was not due to mechanical failure.
Embraer said it has complied with international sanctions imposed on Russia and had not provided maintenance for the aircraft since 2019.
The plane showed no sign of a problem until a precipitous drop in its final 30 seconds, according to flight-tracking data.
Rosaviatsia, Russia's aviation agency, published the names of all 10 people on board the downed plane, including Mr. Prigozhin and that of Dmitry Utkin, his right-hand man who helped found the mercenary group and bore the call sign "Wagner."
Russian investigators said they had opened a criminal investigation. Some unnamed sources told Russian media they believed the plane had been shot down by one or more surface-to-air missiles. Reuters could not confirm that.
The aircraft, which had been traveling from Moscow to St. Petersburg, crashed near the village of Kuzhenkino in the Tver Region, Russia's emergency situations ministry said.
Abbas Gallyamov, a former Putin speech writer turned critic whom the Russian authorities have branded a "foreign agent," suggested, without evidence, that the Russian leader, who is expected to run for another term in office next year, was behind the crash and had strengthened his authority in the process.
"The establishment is now convinced that it will not be possible to oppose Putin," Gallyamov wrote on Telegram. "Putin is strong enough and capable of revenge."
Bill Browder, a businessman with years of experience in Russia and another Kremlin critic, agreed.
"Putin never forgives and never forgets. He looked like a humiliated weakling with Mr. Prigozhin running around without a care in the world (after the mutiny). This will cement his authority," Browder wrote on X, formerly known as Twitter.
On a visit to California, US President Joseph R. Biden told reporters he did not know what had happened.
"But I'm not surprised," Mr. Biden said. "There is not much that happens in Russia that Putin is not behind."
SECOND PLANE LINKED TO PRIGOZHIN
Flightradar24 online tracker showed that the Embraer plane (registration number RA-02795) carrying Mr. Prigozhin had dropped off the radar at 6:11 p.m. (1511 GMT). An unverified video clip posted to social media showed a plane resembling a private jet falling out of the sky.
Another unverified clip showed the burning wreckage of the plane on the ground. Rescuers had recovered all 10 bodies or what was left of them from the scene, Russian news agencies reported.
Soon after the plane crashed, a second private jet thought linked to Mr. Prigozhin which also appeared to be heading to St. Petersburg, Mr. Prigozhin's home base, turned back to Moscow, flight tracking data showed, and later landed.
Mr. Prigozhin, 62, spearheaded the mutiny against Russia's top army brass on June 23-24 which Mr. Putin said could have tipped Russia into civil war. Wagner fighters shot down Russian attack helicopters during the revolt, killing an unconfirmed number of pilots, infuriating the military.
He had also spent months criticizing Russia's war in Ukraine, something Moscow calls a "special military operation," and had tried to topple Defense Minister Sergei Shoigu and Valery Gerasimov, the chief of the General Staff.
Many Russians had wondered how he was able to get away with such brazen criticism without consequence.
The mutiny was ended by an apparent Kremlin deal which saw Mr. Prigozhin agree to relocate to neighboring Belarus. But in practice he had appeared to move freely inside Russia after the agreement which had reportedly guaranteed his personal safety.
Mr. Prigozhin posted a video address on Monday which he suggested was made in Africa. He turned up at a Russia-Africa summit in St Petersburg in July.
Unconfirmed Russian media reports said that Mr. Prigozhin and his associates had attended a meeting on Wednesday with officials from the Russian Defense Ministry. Reuters could not confirm that. — Reuters