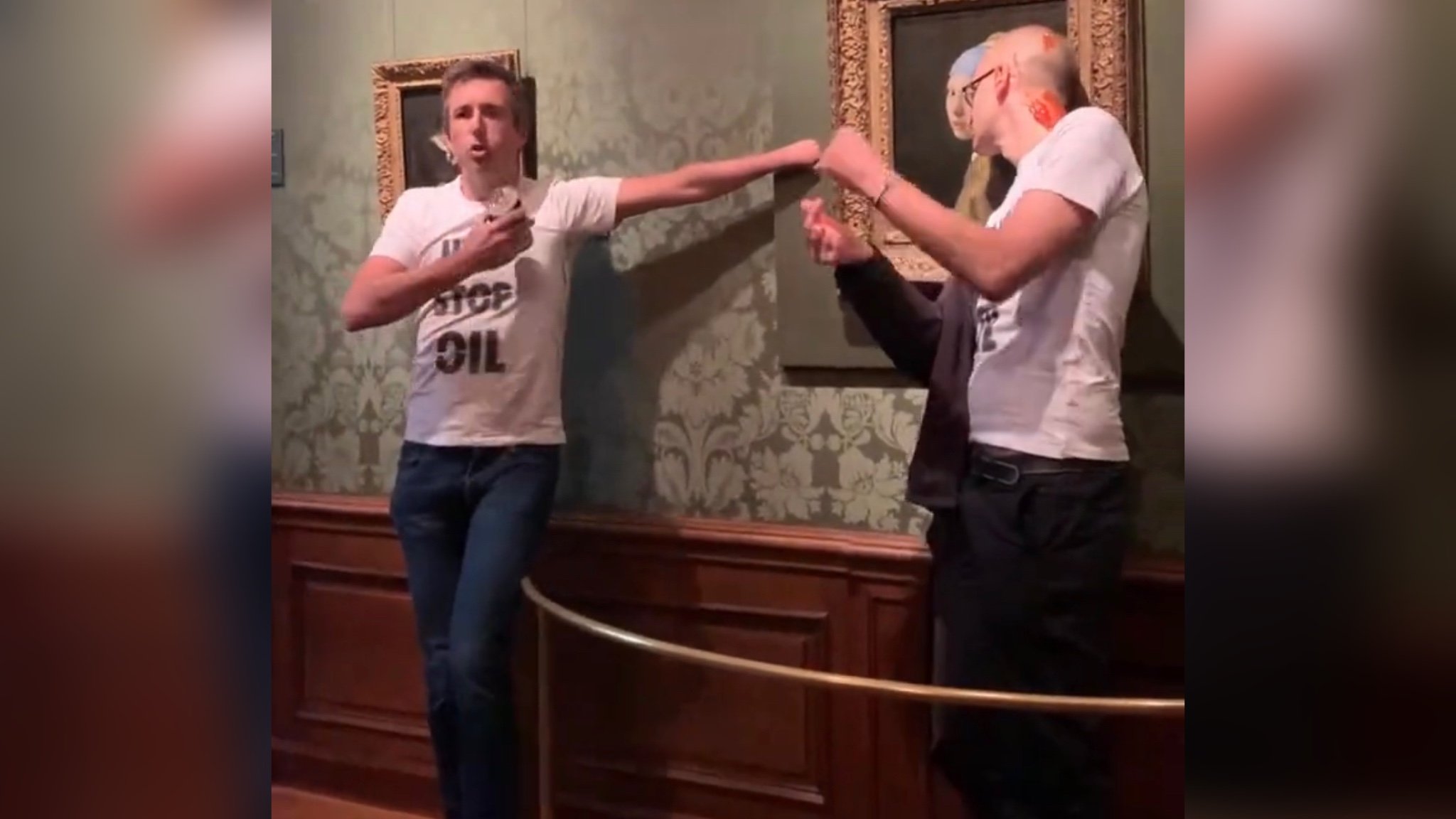 Dutch television NOS reported on Thursday that climate activists had targeted Johannes Vermeer's "Girl with a Pearl Earring" at a museum in The Hague, Netherlands.
The Johannes Vermeer masterpiece is the latest artwork targeted by climate activists from the "Just Stop Oil."
In a now-viral video, a man appeared to be pouring a can of tomatoes to another man, who is then attempting to glue his head to the famous artwork.
"How do you feel when you see something beautiful and priceless being apparently destroyed?" one protester said.
"Where is that feeling when you see the planet being destroyed before our very eyes?"
The two men were heckled by art lovers in the museum.
Watch the video below:
NOW – Attack on Johannes Vermeer's famed "Girl with a Pearl Earring" painting at a museum in The Hague.pic.twitter.com/N9OgTEnYvb

— Disclose.tv (@disclosetv) October 27, 2022
His eyeglasses are plastic too, so, more oil.

— BillySlang (@BillySlang) October 27, 2022
Yahoo News reported:
Dutch police said three arrests had been made at a museum, but provided no details.

The artwork at the Mauritshuis in The Hague was not believed to be damaged, Dutch news agency ANP reported.

Video circulating on social media appears to show two men in Just Stop Oil T-shirts gluing their hands to the wall next the the painting. One appears to be trying to glue his forehead to it.

The painting, which has an estimated value of £72.5m and is made from oil on canvas, is protected by a glass cover.

"The police were notified and three people have been arrested. The condition of the painting was inspected by our restorer. Fortunately, the glass-covered masterwork was not damaged," the museum said.

"Art is defenceless and we condemn all attempts to damage it, for whatever reason,' the museum said. 'We will not make any further comment because we don't want to honour this action with extra attention."

Dutch police said three arrests had been made at a museum, but provided no details. The two men in the video were seen being escorted away by police in more footage.
Last week, "Green" activists glued themselves to the floor of the Porsche pavilion of a car show in Germany.
One of the activists, Gianluca Grimalda, is also going on a hunger strike until their climate change demands are met.
However, the staff at Porsche was not bothered instead they just left them at the car show overnight.
"But when staff from the museum left for the day, leaving the activists inside, they complained that they had no food and there was no heating and lighting," Express reported.
"They refused our request to provide us with a bowl to urinate and defecate in a decent manner while we are glued, and have turned off the heating," one protester said.
Doctors ascertained the possibility of life-threatening blood clots in my hand and recommended an immediate transfer to a hospital. My health is of course paramount. I accepted to leave this wonderful group and was taken to hospital, continuing my hunger strike.8/ pic.twitter.com/FUEUj7wu1b

— gianluca grimalda (@GGrimalda) October 21, 2022
The post Unhinged Climate Activists Glue Themselves To Johannes Vermeer's "Girl with a Pearl Earring" Painting in Netherlands appeared first on The Gateway Pundit.