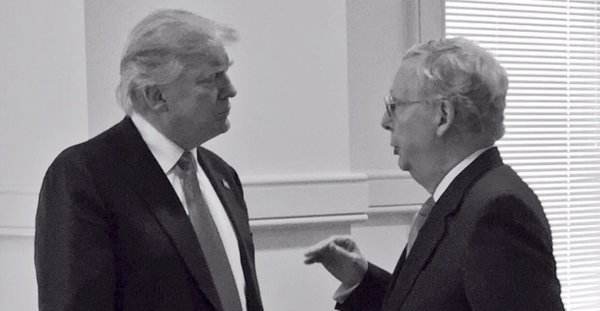 It's clear Mitch McConnell and the GOP Senate don't care about their base or the American people.  They show it every time they vote.
The Democrats have no worries in the Senate with the current gang of GOP Senators in DC.  Mitch McConnell is the worst.
This week he agreed with the far-left lunatics new spending bill and agreed to more of the same.  The country is in an economic crisis and the Dems and McConnell don't care.  They just want to spend, spend, spend on crazy stuff that helps no American.
President Trump addressed this insanity in a Truth yesterday:
Is McConnell approving all of these Trillions of Dollars worth of Democrat sponsored Bills, without even the slightest bit of negotiation, because he hates Donald J. Trump, and he knows I am strongly opposed to them, or is he doing it because he believes in the Fake and Highly Destructive Green New Deal, and is willing to take the Country down with him? In any event, either reason is unacceptable. He has a DEATH WISH. Must immediately seek help and advise from his China loving wife, Coco Chow!
The responses from the American base that follows President Trump were like this:
Creeps on the left went nuts and freaked out on President Trump's message. They love it that McConnell is helping them destroy America. Why would anyone be upset about McConnell?
I mean, I guess he means it figuratively? Maybe?

— Chris Hayes (@chrislhayes) September 30, 2022
The DOW is having its worst year EVER by far and the left and McConnell want to spend the US into damnation and that is ok with the left.  These people are on a death wish. 
The post President Trump Says that Mitch McConnell Has a "DEATH WISH" By Backing Insane Dem Spending Bills appeared first on The Gateway Pundit.